Dynamic makes cookware the right way.
Creating heirloom-quality healthy cookware in Coimbatore since 2015.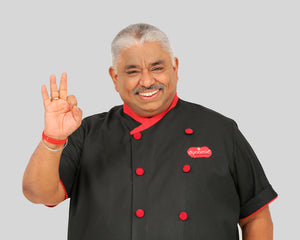 Chef Dr. Damu.
All our healthy and chemical-free cookware is recognized and recommended by Chef Dr. K. Damodharan, Guinness record holder and an Indian celebrity chef.
Reasons to love Our cookware essentials
100% Toxin Free - Made Using Premium Virgin Materials
Carefully sourced virgin raw material keeps cookware away from impurities and assures the cooked food is free of toxins. Our cookware features an easy-release cooking surface, pre-seasoned with organic cooking oil. Free from any harmful chemical or synthetic coatings. 
Designed for - Healthy Nutrient Rich Cooking
Our thick base cookware products are uniquely designed in collaboration with professional chefs produce fantastic culinary wonders on the cooktop and satisfy the needs of people aspiring for healthy cooking.
Perfectly Alloyed - Quality Improves on Every Use
All our cookware is alloyed to food-grade with our Thirty years of Metallurgical Experience. Perfect alloying enhances the quality of cookware with every use.
first time in india
Dynamic cookwares is the first brand in India to introduce Pre-Seasoned Ultra Premium Carbon Steel Cookware to the Indian kitchen.
We are a manufacturer, all your orders are shipped directly from our factory.