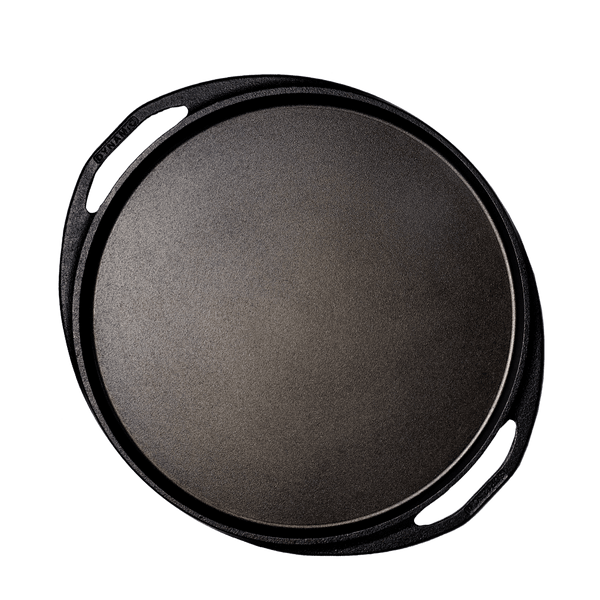 Cast Iron 12.5" Dosa / Roti/ Pizza Pan
The 12.5 inch Dosa/Roti/Pizza pan is specially designed for large preparations. Be it an extra-large dosa or a large 12.5-inch home-made pizza, this pan can do it all. Our Cast-Iron Tawa is one of a kind in the market for a lot of reasons. It is machined to a radiant and smooth cooking surface. It is the only pan that can be used to make Indian staples like dosa's and roti's, as well as the European treat from Italy - Pizza. The depth of the pan can accommodate the pizza base and the heat retention property of the pan will keep the pizza cheese melted for a very long time. The Dosa/Roti/Pizza pan is a perfect tool for home Chefs who enjoy cooking Indian dishes and also occasionally indulge in European treats.
Features

Satin smooth Cooking Surface
Pre-seasoned Naturally
Dual-Handle Comfy Grip
Even Heating
Shipping and Warranty

Free Shipping

Ships in 24 hours

7-day replacement guarantee

1 Year Domestic Warranty

Works with

Gas Stove
Induction
Convection Oven

Campfire

Dimensions
Diameter: 12.5"
Depth: 0.5"
Handle to Handle: 15"
Weight: 3.8 kg
THINGS YOU SHOULD KNOW BEFORE YOU BUY
To avoid Sticky Pan and Rusting, strongly recommended reading the instruction in the "Use and Care" manual, provided with the product.